TANDEM 4 $ELL

Thread started by
JOKER
at 02.5.11 - 4:07 pm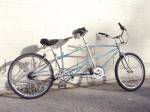 BEAUTIFUL TANDEM
Just in time for Valentine's day. Perfect Bike Date Bike.
You never have to wait for your partner to catchup!
If anyone is interested, hit me up thru the following craigslist ad
http://losangeles.craigslist.org/sfv/bik/2199381151.html
$150- Best $150 you can spend on you and your special bike lover!
10% off for tru Ridazz...
Cash only
reply