3RD STREET HOOLIGANS SUNRISE SUNDAY RIDE 03.27.11

Thread started by
Black Mamba
at 03.16.11 - 4:48 pm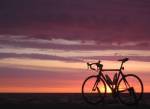 WHEN: Sunday, March 27, 6:30am – 9:30am.
WHERE:
3rd Street to Beach (Alamitos Bay) MAP: http://www.gmap-pedometer.com/?r=4353695
-Sunrise is at 6:48am, we will be meeting at 6:30am and roll out at 6:45am.
*ALL bikes are welcome. Join us if you're brave enough and LEAVE YOUR EGOS AT HOME.*
WHO ARE THE 3RD STREET HOOLIGANS YOU ASK?? CHECK OUT THE LINK BELOW:
http://thebicycleblog.wordpress.com/3rd-st/
reply
this sunday people! you ready?
bring tools, helmets, tubes, water, jackets, whatever you need. no sidewalk riding, use your signals and call out hazards.
stay in the lanes and follow us.
this is all medium speed, we're not in a race people and we'll get back when we get back. let's have fun. all are welcome!

icarus
03.26.11 - 1:21 pm
reply