Bicycle Swapmeet This Sunday

Thread started by
rev106
at 03.30.11 - 9:56 am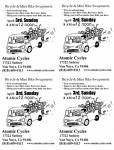 Where:
Atomic Cycles
17322 Saticoy
Van Nuys, CA
91406
When:
Sunday, April 3rd from 8 AM till Noon.
Free to show up, free to sell your stuff. Mini bike, go karts stuff fine too. 8 am to 12 noon. I share a parking lot with a popular bar so get there early to set up as the space is limited to about 10-20 spaces. Spaces are limited to one per person or group and are on a first come, first serve basis. Bring your own tables, change and chairs. Convince store across the street, the bar has pub grub...Last time I had about 15 vendors and loads of people passing through all day. I have about 20 crates full of bike parts, 1000's and 1000's of things, I pull the contents of my used parts storage out and you can have at it. Bring your stuff, no matter how little you have. You never know who's looking to buy. Feel free to take the flyer and re-post it elsewhere.
Sellers: Please note that if you expect top dollar (ebay dollars) for your bikes expect to take them home unsold. This is a bargain hunters meet and you should have a good selection of things that you're willing to sell for cheap as well as high end and collectable stuff. Just some fyi....
I don't know what will be there and I have no way of knowing. I do not have physic powers, it's a stupid question that you know I have no real way of answering yet I hear it over and over... Just show up.
I've been to a lot of swaps and this one is a great bargain hunters meet. Bike collectives and other bicycle oragaizations that want to set up a table to raise awareness feel free to do so.
Seen you then!!!