STOLEN BIKE, HELP! THANKS

Thread started by
Dejahvu
at 04.10.11 - 12:59 pm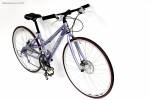 Worth a shot!
It was stolen from a party in East LA the very day I got it. Brand new. It has a loosely attached bell on it. I didn't have enough time to personalize it more.
I don't have much. I had a bike. Gimme.
I know it's a long shot, but please keep a look out!
Already filed a police report and have some connections too. THANKS.