Bike Week Pasadena w/CICLE

Thread started by
alicestrong
at 05.16.11 - 8:24 am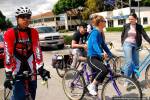 ...starts tonight with a Streetsblog hosted movie night! Come see the bike films, have a snack and enter the fab raffle...
http://www.cicle.org/attend-an-event/bike-week-pasadena.html
reply
We hope to see everyone tonight!
If you're riding, bring a lock and secure your bike to one of the barricades located in the back of Boston Court Performing Arts Center.
:)

alicestrong
05.16.11 - 1:22 pm
reply