The Badger: Merritt Island

Thread started by
tern
at 01.24.09 - 5:53 pm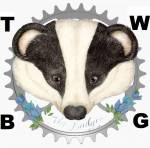 The Badger Ride-- Merritt Island: Do you wanna run with my pack? Do you want to ride at my back? Pray that what you lack does not distract.
Tuesday nights. 10 pm.
2445 N Courtenay Pkwy.
reply
I had the MASI repaired by a shipbuilder at the port a week after my frame was destroyed....for a very good price. Beats bike builders, for sure.
And, as for the new purchase...I'm holding off on it.

tern
01.24.09 - 6:00 pm
reply