brandt-sorenson
Member since: 04.15.07
Topics: 2
Replies: 49

view gallery contributions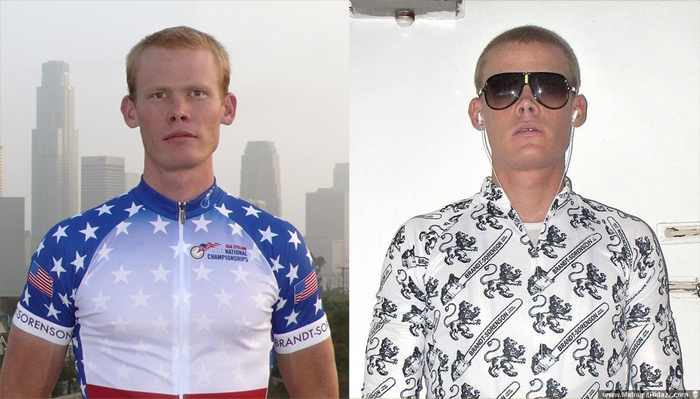 USA Cycling Category 1 Athlete
RACING RESULTS 1997-2011
2011 1st USA Cycling National Road Race Championship**
2011 1st Ontario Criterium Series, California, PRO
2011 4th USA Cycling National Criterium Championship**
2011 4th Dana Point Criterium National Racing Calendar, PRO
2010 1st California State Championship Criterium, SNCA *
2010 1st Ontario Grand Prix Criterium, 5/16 CA PRO 1
2009 1st California State Championship Criterium, cbr, PRO1
2009 1st Ontario Summer Grand Prix, CA PRO
2009 2nd Dominguez Hills, Criterium, PRO
2009 3rd Ladera Ranch Grand Prix, CA PRO
2009 3rd UCLA Road Race, (10,000 ft. of climbing), Pearblossom, CA PRO
2009 3rd Long Beach Criterium, CA PRO
2009 4th California State Championship Road Race 150K PRO 1
2009 4th San Luis Obispo Downtown Criterium PRO 1
2009 5th San Pedro Grands Prix, CA PRO 1
2009 6th Portland Twilight Criterium, OR PRO 1
2009 12th San Luis Rey Road Race Classic, CA PRO
2009 17th Dana Point Criterium, National RC, CA PRO
2009 20th Tour de Murrieta, PRO
2009 1st DTLA Grand Prix street race #1, July
2008 1st San Dimas Stage Race, Criterium
2008 1st Sprint Competition San Dimas Stage Race
2008 2nd San Dimas Stage Race, Road Race, Elite C2
2008 2nd End of Summer Grand Prix, Ontario, CA PRO
2008 2nd Sequoia Cycling Classic, Elite Criterium
2008 3rd Sisquoc Road Race, Santa Maria, CA PRO
2008 4th SDSR, General Classification, Elite C2
2008 4th Sequoia Cycling Classic, Elite 40k TT (via roadbike)
2008 5th Sea Otter SRAM Road Race, Monterey, PRO
2008 8th Brentwood Grand Prix, PRO
2008 9th Devil's Punchbowl Road Race, PRO
2008 9th University of California Santa Barbara, Criterium PRO
2008 10th Valencia Memorial Criterium, PRO
2008 10th La Mirada Grand Prix, PRO
2008 20th San Francisco Twilight Crit, (crash 3k) CA PRO
2008 39th GLMGP NRC, Ojai, CA PRO
2008 67th Redlands Classic Stage Race, G.C., PRO
2008 1st highest grossing DTLA Grand Prix Street Race Series
2008 1st/2nd Puma $2k duo team street race, Los Angeles
2008 1st DTLA Grand Prix street race #2, July
2008 1st DTLA Grand Prix street race #4 July
2008 1st DTLA Grand Prix street race #5, July
2007 1st Portland International Raceway, Circuit Race, OR Aug 14 PRO 1/2
2007 1st San Dimas Stage Race, Road Race, Elite C2
2007 3rd LASD 100k circuit race, CA, PRO 1/2
2007 3rd Wine Country Twilight Series, Crit, Santa Rosa, PRO 1/2/3
2007 4th Ontario Airport 3 Criterium, PRO 1/2
2007 4th Fifth Annual Clif Bar-Clif Shot Criterium, PRO 1/2
2007 5th End of Summer Criterium Ontario Airport, PRO 1/2
2007 11th California + Nevada State Championship Road Race, D3 PRO/ Elite (140km, 1200m elevation)
2007 11th Giro di San Francisco PRO
2007 17th San Rafael Twilight Criterium, PRO
2007 25 (3rd C2) Cougar Mountain RR, National Race Calendar PRO
2007 1st Downtown Los Angeles Dewarp Street Race, Sep 14
2007 1st Downtown Los Angeles Alley Cat Race, April 27
2007 1st Downtown Los Angeles Circuit Race, April 13, messenger street race(solo breakaway)
2006 4th McLane Pacific, Elite National Road Race Series, C2 (160km) 120km breakaway
2006 10th Devil's Punchbowl, PRO 1/2 (130km, 1440m elev. gain)
2006 12th Central Valley Classic-Kearny Circuit, NRC, C2 (160km)
2005 2nd Sisqouc Road Race, C2
2005 9th Ojai NRC
2004 7th Sisquoc RR- pro/elite
2004 2nd Big Bear NORBA National
2003 1st Oregon State Champion, Semi-Pro XC
2003 9th Cherry Pie RR- pro/elite
2002 10th Cascade Cycling Classic SR3, C3
2002 1st Bonelli Park, NORBA XC
2000 16th Mammoth NORBA National
1999 1st Banana Belt RR, C4/5
1999 1st Hanford Collegiate RR
1998 1st Glendale RR, Jr
1997 2nd Cascade Chainbreaker, MTB Jr
* Masters 30+
**2011-2012 (redacted)
PAST COACHES:
-David Brinton
-Jeff Hess
GROWTH PATTERN:
2007 190 cm, 86 kilos
2006 188 cm, 81 kilos
2000 183 cm, 76 kilos
1997 165 cm, 60 kilos
1994 150 cm, 43 kilos
1983 DOB
EDUCATION
2003 Bachelor of Fine Arts Degree, Photography, University of Oregon
2001 Bachelor of Science Degree, Fine and Applied Art
1998-2003 Ford Family Foundation full tuition academic scholarship
JOBS
2005-07 Regen Projects Gallery, Los Angeles, CA
2004-05 Ace Gallery (Doug Chrismas), Beverly Hills, CA
2005 Los Angeles County Museum of Art, Tim Hawkinson: artist's assistant, Los Angeles, CA
2003 REDCAT Gallery, Los Angeles, CA
MORE
2001-02 Lived in tent four months during summers for high altitude training. Yosemite National Park, CA
2001 Organized first ever Critical Mass in Yosemite. Gridlocked valley roadways, detained by NPS. Yosemite, CA
2004 Pioneered Midnight Ridazz by riding Kim's wheel out of her apartment/ Pioneer Chicken lot. Los Angeles, CA
Portland Pro Twilight Criterium 2009, Brandt-Sorenson leading the peloton.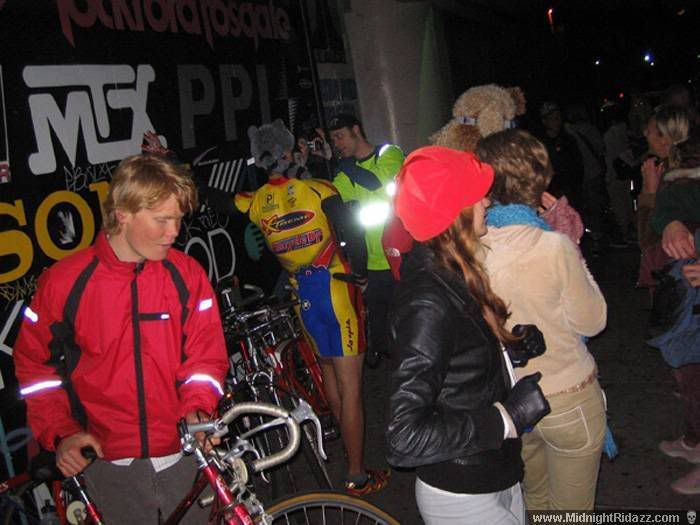 Young Brandt-Sorenson blowing up the party scene on the second ever Midnight Ridazz.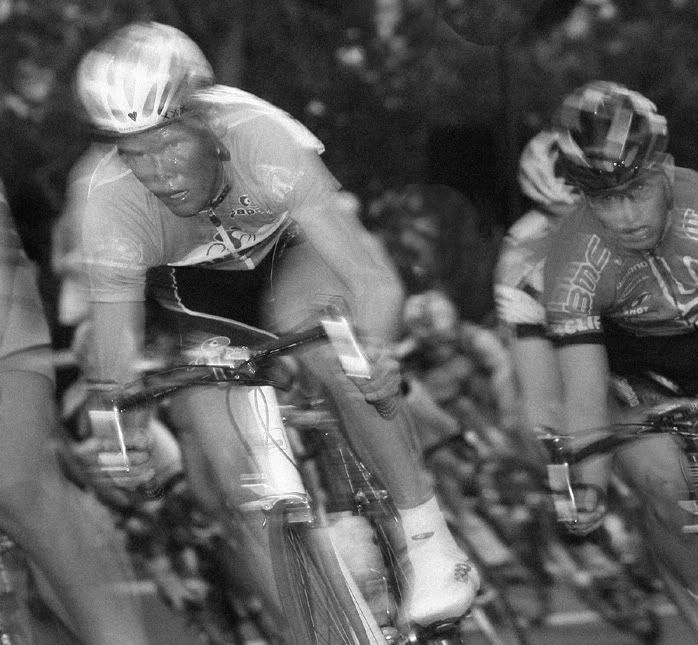 Racing straight edge XXX punk rock in the pro peloton on a worn out bike (sold later for twenty bucks).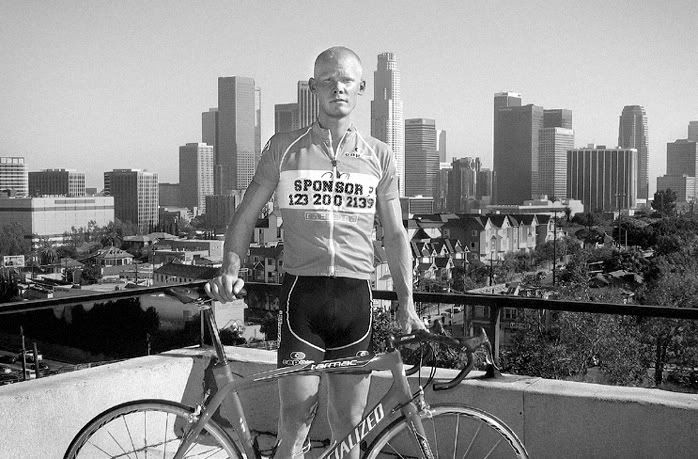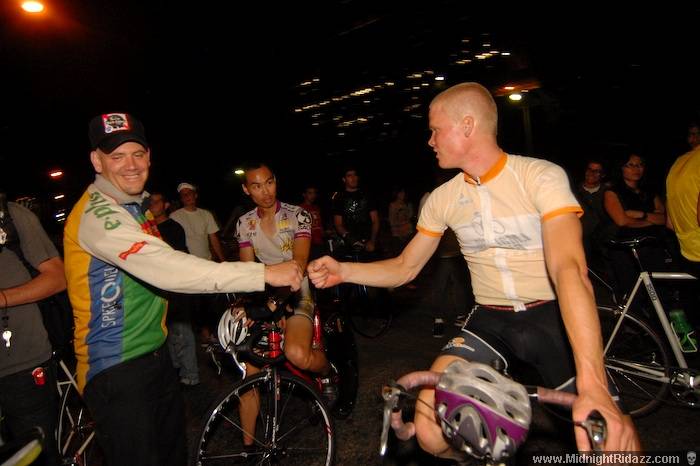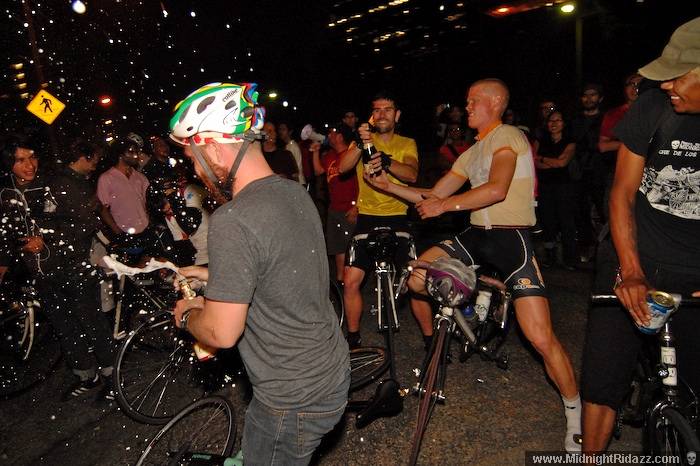 Brandt-Sorenson celebrates his DTLA street racing victory over the six foot six messenger Jack.
He remains undefeated on the streets of LA..