Cristinky
Member since: 03.28.11
Topics: 2
Replies: 3
Website:
http://www.GameBoyBeats.com

view gallery contributions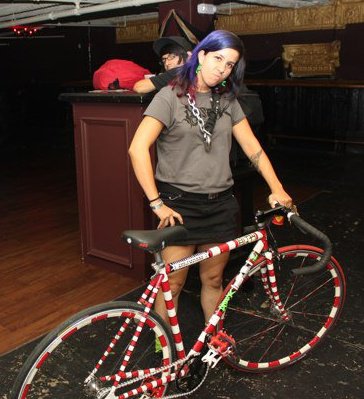 I love using my body to have fun. I love to dance, thrash, sing, roller skate, and bike until my body hurts. I am very proud of my bruises and scars because they remind me of how much fun I had. You'll never see me in a gym, because riding a bike staring at a blank wall is ridiculously boring for me. I used to play roller derby and will always be in love with the sport. It taught me that your body's physical abilities is subject to the strength of your mind. I had to stop playing for several reasons, but mostly that it built more aggression for me than released it. Biking has replaced my addition to derby, because of the mentality that I did not find in Derby like positivity, creativity, and comradeship. Riding bikes in a group makes me feel like I do when I play or throw shows. The only difference is that bikes are a transient tool so your ability to have fun while doing it is not limited into one fixed environment to play in like a club. Nothing has ever compared to that till now. But I also like that I can do it alone or with someone specific. I take my bike with me on tour and ride whatever city I'm in, and it's me and my boyfriend's favorite way to spend time together.