spider-man
Member since: 07.9.08
Topics: 1
Replies: 34

view gallery contributions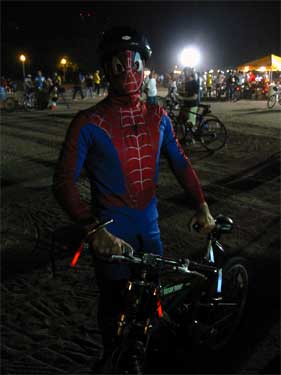 I had a tragic accident involving a radioactive spider in a lab. I haven't been the same since and my condition is irreversible from what anyone has been able to ascertain. Eventually, all the super-strength, wall-crawling, and web-slinging stuff really started to make me feel a little socially awkward so I concocted an altered ego for myself and now I can keep my freakish abilities separate from my regular career, friendships, and hobbies. I try to keep my secret identity under wraps in order to maintain that last little bit of sanity that remains at the end of a long work week and plenty of late nights flinging busses around the city.
Oh, that reminds me; I just moved here recently from New York City because all the bus flinging business requires that I keep in decent shape and my only effective workout was webslinging around town. It's good for your upper body strength but it really doesn't do much for your lower body or your anonymity. Once I discovered cycling, I thought I had it all figured out! I'd bike around the city, get a workout, and get to where I needed to go just about as fast as swinging from my web and without the high profile appearance. Unfortunately, I didn't take cabbies into account. They are clueless! Their obliviousness can be quite dangerous considering the speed that I get when I roll a spidey-size gear ratio of 105/7. I can't even begin to tell you how many frames (car and bike) I obliterated before moving to LA where there are fewer cabs making frequent stops and the streets sprawl on for long enough that I can comfortably get up to speed between turns.
What's more, out here, I can keep my upper body in good condition by swinging around on the traveling rings south of the Santa Monica Pier! Of course... I don't quite look like the average swinger once I get going but I don't think anyone really suspects anything too out of the ordinary. Only the coolest ridazz are supposed to know what's really going on there so if you see me doing my thing on the rings and you know it's me, don't be afraid to introduce yourself... Just don't go blowing my secret identity or I won't bother to save you if you're about to get crushed by a steamroller of the non-Surly variety when you get too wasted to know the difference between at C.R.A.N.K. MOB.
Anyway, I hope to see you on a ride in my normal (off-duty) street clothes (and gear ratio) sometime. I'll probably be cruising with the rest of the crowd so watch your step 'cause if you're an asshole and I spot you, I will chase you down and web your bike up somewhere that you can't reach with your puny little arms, weak grip, and clumsy lack of flexibility. I won't even give it a second thought so if you haven't been bitten by a radioactive animal of some sort, don't test me.
Love,
Spider-Man