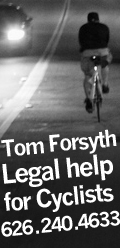 Ridazz Roulette!





The Hell Ride

05.30.22


We go up and down, up and down and up and down across the west most mountain range in the sfv....and beyond! There are paved sections, gravel and fire road sections, single track and hike-a-bike sections. Bring water and snacks, and at least one tube. It is a group ride, route maps will be given out. Still has a pace, you\\\'ll most likely fall into your pace group. After party afterwards. A cyclocross or gravel bike (same thing?) would be ideal, a rigid mtb next, and then what ever will work for you. Some very steep climbs so gears will be a good idea. See you then!!!

Route may change.

rsvp to rev106@yahoo.com for meet point.

Free food afterwards, finishers get a button.






Posted by rev106