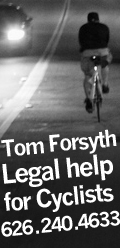 Ridazz Roulette!





BAD LAWS NEED CHANGING

05.7.09





Thursday

START TIME: 11 am






On Thursday we ride in support of AB766, the "Safe Streets" bill that will require local public hearings to consider the safety of cyclists and pedestrians when establishing the speed limits in our communities.

Assistant Majority Leader Paul Krekorian (D-Burbank) will hold a press conference Thursday, May 7 at 12 noon in Valley Glen to spotlight his legislation to combat the rise in speeding throughout the region and State.

We meet at the NoHo Red Line Station at 11am, we ride at 11:30 am and stand with Krekorian in support of AB766 at 12 noon.

The Press Conference will be held at the NW corner of Coldwater Canyon and Burbank Boulevard (Map)

We've long complained of State laws that support the primacy of the motor vehicle at the expense of cyclists. We've long complained of antiquated California Vehicle Code that still allows tickets for pedals and is unclear on the rights of cyclists. We've long complained of the DMV and the failure of the CA Drivers test to include even one question about the rights of cyclists.

Now is our opportunity to work for real change. Now is our chance to forge a relationship with our State leadership. Now is the time to advance our cause at the State level.

If you can make it great! Visit http://bit.ly/w3SRS for more info on the Bill.

We're also collecting letters of support which we will take to Sacramento on Monday, May 11, to read into the record. Send us an email, tell us who you are, where you live, your experiences on the streets and why you support AB766. Email to SafeStreets@BikeWritersCollective.com.




Discussion

Contact info for this event: Stephen 323.962.6540 or Stephen@thirdeyecreative.net

PS. Alex, thanks for the photo!





Posted by illuminateLA