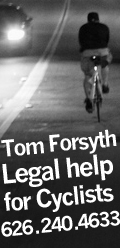 Ridazz Roulette!





MIKEY WALLY

02.26.10


MIKEY WALLY


What's your name (optional) and/or your Midnight Ridazz log-in name?
Mikey Wally, mikeywally

How did you first hear about Midnight Ridazz and what was your first group bike ride?
A girl at Redwood Bar on 2nd street downtown told me to check it out. My first ride was a Santa Monica Critical Mass summer 2007.

Currently what rides do you attend regularly and what ride(s) would you like to see make a comeback?
I ride to the rabbit hole when I need a spiritual cleanse. I don't want to see any ride comeback. I want to see new shit.

What advice would you pass on to new ridazz?
"Don't shit where you sleep."

If you were leading a group ride, what would you do differently?
Nothing.

Do you prefer small rides (30 or less people) or larger rides and why?
I haven't been on any group rides in a while. Lately I prefer very small rides with just friends, mostly I ride by myself. Riding to the aqueduct near Salton Sea was my last group ride.

Tell us about the best and worst experience you've encountered on a group ride.
I've made life long brothers and sisters. Met LA. Been clothed, fed, and housed. Experienced more fun than college. Sunsets, sun rises. I've had shit stolen. I've gotten hit.

What did you do for fun before you started "riding"?
Rock climbing, rowing. I still do music and watch anime.

What's the best and worst thing group bike rides have done for cycling as a whole in Los Angeles?
They killed fun.

If you can name 1 person who embodies the spirit of "Midnight Ridazz", Who would it be and Why?
Roadblock, O.G.

What do you think the public's perception is of group bike rides?
Acid Kool-Aid Hipsters, what is that wobble womp anyway?!

Is there anything else you'd like to add?
Ride on.





Posted by barleye