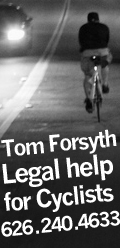 Ridazz Roulette!





SEXY

03.22.10





What's your name (optional) and/or your Midnight Ridazz log-in name?
Mr.Bolog Sexy

How did you first hear about Midnight Ridazz and what was your first group bike ride?
I went on a group trip to this third world country. We were on the eight day of this 10 day trip. We were at this lecture, the speaker was ranting about how bad G.W. Bush was. He wasn't telling us anything we didn't know. So I started passing notes to this guy about ditching the lecture. He wrote that he heard of a place we could rent motor scooters and go check out the country. We dodge out of the lecture and hit the town. We found out that you had to have a reservation and that the scooters where all rented out. So we got into this cab that looked like a giant football helmet (semi-enclosed) with a motor cycle attached to the front. The motorcycle is where the driver sat and drove us around. I was telling the guy I was with that I tried to rent a bicycle but this country (which was flush with Flying Pigeons) didn't have a place to rent bicycles. All I could find were cars to rent. I proceeded to rant about how great it is to ride bicycles. I asked him if he owned one and he was like "no man I should get one"

So we get back from our trip and I would run into him from time to time and asked "hey did you get a bicycle yet?" He said no the first four times, then on the fifth time I saw him at an anti-war rally, he said "yeah man, I got a bicycle" then in the same breathe "Have you been to Midnight Ridazz yet?" I said "I heard of it a few times, what's it all about it?" He goes "oh man it's totally cool, it's a bunch of people on bikes that tour around the city at night" I said "at midnight?" he said "no no, like ten o'clock over at Pioneer Chicken"

Even though I heard of it before that was the first time I thought "I've got to find out where this is happening". Then about six months later I was at this Vegan Festival out at Balboa Park. Jack and BikePunk are sitting at this table with a white on black hand painted sign that said BIKE SUMMER LOS ANGELES. I went over and talked with them and got a zine about the event that they where passing out. I said, "I heard of this and checked the website but I didn't see any rides listed." They told me to list one myself, at which I just stared blankly at them.

The zine had a listing of the kick off party for Bike Summer at the Santa Monica Pier. I had just got off working late and had a busy Saturday scheduled for the next day. I was really tired but I decided to ride by the Pier and check out what the party might have looked like. So I rode to the pier and never saw so many bicycles parked in one spot it my life before. I was so excited. I felt like I found home. Went into the party and saw the Ditty Bops, Triple Chicken Foot and I can't remember who else played, I think Rev106's band might have played. First time seeing Alec's hat and had to have one. When I found him he said he was sold out. That was a pre-cursor to my ability to get spoke cards in the future. So my first ride was actually a party.

Currently what rides do you attend regularly and what ride(s) would you like to see make a comeback?
I don't attend any rides anymore. I don't even ride a bicycle anymore. I power walk, because it looks even more lame than riding bicycles. It's just not the same coming to rides when you don't use a bicycle at all. It was a real treat after riding all week by myself to come ride and party with others who rode bikes. Since I drive and walk I can't feel that joy of riding in a group like I once did. I hope that in the future I start riding again and then I can really enjoy the spirit of rides again.
As of now I just don't see to many rides that even excite me.

Now for the ironic part as I'm writing this, I actually see a ride for the first time in six months that interest me. The Safari Ride looks like it is going to be Epic. Wish I could be attending.

Rides end either because the organizer is tired of doing it or can't do it anymore.
Since a ride is really the creation of the organizer, if there is no ability or will on the organizer's part to do it anymore, there is no reason for it to happen. It just wouldn't be the same without the will and desire to really want to make the ride happen.

I think about SpokenDissent from time to time. Chicken Leather said to me the other day "we need to do SpokenDissent" to show oppositions to the wars. OverTheHill and BikeMom bring it up to me whenever I see them. BigBikeDan will always come whenever I have it. So since we were the only people that ever consistently went on the ride, I guess all I have to do is let them know and I could have it anytime.

What advice would you pass on to new ridazz?
Depends who that person is. First thing I would tell anybody is.....You either get this or you don't. It's not something you think you want to be part of. It something you know you want to be part. It becomes something you have to be part of. If you don't feel that I don't think you really get it.

For those that haven't fully developed in their maturity.
• If there is something that you think you can get away with doing when you're with a group that you can't get away with by yourself, don't do it here.
• If there is something that you want to do that you are acceptable with doing that not everybody else is not ok with you doing, don't do it here.
• If you want to do anything that you know or have a suspicion that might upset somebody else, don't do it here.

If you were leading a group ride, what would you do differently?
Ride with no pants on, so everybody would know who was leading it.

Do you prefer small rides (30 or less people) or larger rides and why?
Large rides. The energy is better than any drug or medication that you can do. It is so super exciting, like nothing I have ever felt. It's like a calm adrenalin rush. You can get lost in them, not realize where you are at or where you are going. Ride with people you've never seen and might never see again. Stop and do whatever (pee, get a drink, fix a flat) and get back on with the ride without missing it. Large rides have the energy of arena concerts with the feel of a party where you are comfortable with everybody.

Tell us about the best and worst experience you've encountered on a group ride.
Best experience, are you kidding? I would have to list the top 50 of best experiences. I do love being on the street and connecting with people. That is the best. I will say there was this magic feeling that always happened from 1:30am to 3:30am. Those that stay for it know what I'm talking about. After 3:30am its time to go home.

Worst experience . I have two that stick out.
The after party at Echo Park after "The World's Slowest Race" relationship issues.
The pillow Fight Ride. I ate something I shouldn't have that night, killed my mood. Plus I hate getting hit with anything.

What did you do for fun before you started "riding"?
Political lectures, rallies and talks. I love learning and connecting with people on issues of politics. I would also do some health lectures in there. Learned so much stuff that you couldn't find anywhere else. Now we have the internet, what a tool this thing is. There is also drinking, hanging with friends, Vegas weekends, beach body boarding, rock n' roll, dominology and cards. I have connected with all that again.

What's the best and worst thing group bike rides have done for cycling as a whole in Los Angeles?
Same answer for both…
All the new bicycle riders. Such a joy and a dream coming into reality seeing so many people on a bike.

But it's like that great band that you found on a Tuesday night at a coffee shop, now they are playing stadiums and everybody knows who they are. It loses its cool factor.

If you can name 1 person who embodies the spirit of "Midnight Ridazz", Who would it be and Why?
There is no one person. It is an ever growing changing spirit of many people coming and going but always making it a joy to be part of.

I don't go on rides anymore, but I lurk on this site and check out who's saying what and look at the pictures. If I would have to say one person who embodies the spirit, from the looks of the pictures, what I read and the vibe I got at the last toy ride, it would be MOM RIDAZZ. They seem to be really into just coming out doing the rides, exploring new places meeting new people and enjoying each other in whatever setting they happen to find themselves in. They where really cool and happy to say hi at the Christmas party. I didn't feel any judgment from them. I look at the pictures of them at the Rose Parade, they seem so happy to be together and being there. They just embody that family spirit. They don't have to try hard or over exert themselves. They just really seem to be embracing the spirit of Midnight Ridazz. ALSO -- If you are reading this whole thing, and are really interested in what each of these profiles have to say I would also include you.

What do you think the public's perception is of group bike rides?
If they are walking, I think it is a pretty happy and up beat experience to see us. That is unless you are trying to cross the street that a ride is coming down. It can be a bit of a challenge for pedestrians to cross our path. We really should be looking out for them and make a concerted effort to give them the 'right of way' always.

If they are in a car, I don't think they can get away quick enough and avoid us at all cost.

A co-worker of mine was coming out of dinner getting into his car on Beverly Blvd, in WeHo. He saw a ride coming and his first thought there was "David, let's get in the car quick and get out of here before they come and block us in." They were relieved when they saw it was only a small ride of about 100 people and didn't have to wait that long.

Is there anything else you'd like to add?
This is not that serious. No matter how much you love, enjoy, or are pissed off about something. It's just not that serious. Nothing is.













Posted by barleye