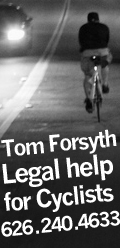 Ridazz Roulette!





LOUISAVE

03.22.10





What's your name (optional) and/or your Midnight Ridazz log-in name?
Name is Louis, but you can call me whatever you want.

How did you first hear about Midnight Ridazz and what was your first group bike ride?
I was actually on the train going home and a bunch of Ridazz got on the train with their bikes and started talking about the site and what not....
My first ride was The Ensenada To Rosarito ride when i was 14?

Currently what rides do you attend regularly and what ride(s) would you like to see make a comeback?
Right now, Taco Tuesday, Ride With No Name, CRANK mob,
I would want to see Summers BAR CHOPZ back

What advice would you pass on to new ridazz?
Umm.. Get Lights it avoids accidents and tickets. And also a helmet! Safety first!

If you were leading a group ride, what would you do differently?
I'd make sure that the whole tagging and stealing doesn't happen also to make sure everyone is happy and no one gets left behind.

Do you prefer small rides (30 people or less) or larger rides, and why?
I prefer large groups because you get to meet a lot of great people!

Tell us about the best and worst experience you've encountered on a group ride.
Umm I think the worst so far is having new ridazz being all over the ride and making me crash. Best thing was finding out about Midnight Ridazz.

What did you do for fun before you started "riding"?
I used to go to a lot of shows and see bands play that was my ever weekend but now I get to ride and see bands at the same time!

What's the best and worst thing group bike rides have done for cycling as a whole in Los Angeles?
the best thing is probably having almost everyone not riding to be aware that people ride bicycles everywhere and for fun
the worst is those few ridazz making us look bad by stealing tagging and not following the rules of the road

If you can name one person who embodies the spirit of Midnight Ridazz, who would it be and why?
Umm right now not sure. haven't thought about that but there is a few people out there that put cycling at its best!

What do you think the public's perception is of group bike rides?
It's a fun way to work out or a fun way to socialize but when its a massive group being stuck behind it can be annoying.

Is there anything else you'd like to add?
Summer is here! lets ride all day everyday!









Posted by barleye