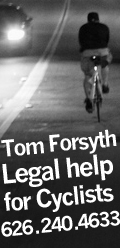 Ridazz Roulette!





WNBR! World Naked Bike Ride 2010 - LOS ANGELES!!

06.12.10



SAT. JUNE 12TH . 4PM .

This ride is a kickstart of the World Naked Bike Ride (WNBR) in Los Angeles -- for the last 5 years, the ride has been enjoyed by over a hundred major cities in 29 different countries as a celebration of cyclists rights, oil independence, and freedom of expression. Check out the WNBR website to see how huge this ride is and help us represent LA for the huge and healthy cycling community we have here.


Please note: this ride is "as bare as you dare" -- nudity is an optional form of protest or expression. Nobody will be excluded and we encourage everyone to participate. The more the merrier.

http://www.worldnakedbikeride.org/

http://www.google.com/images?q=world+naked+bike+ride&um=1&hl=en&tbs=isch:1&sa=N&start=18&ndsp=18


FACEBOOK EVENT: http://www.facebook.com/event.php?eid=129066633771110&ref=mf (R.S.V.P. for update on private pre-ride location and route)


ARTISTS! We need body painters to deck out our riders at the Pre-Ride! Contact us at insemillation@gmail.com or through the facebook event.



*DETAILS*



STARTING LOCATION: Echo Park (exact address tba)



START/DEPARTURE TIME: 4PM - - Don't get left behind!



ROUTE: Loop of Silverlake->Downtown: *contact us for a google maps link. We will also post a link to a map of the finalized route the night before the ride. The route is 10-13 miles, contains mild hills, a few of which are extended inclines. Our test rides taken at a very mild pace clocked in at 1:09. We've designed this route for safety, tasteful exposure to modern and classic LA landmarks, and for accessibility -- nobody will be left behind.



PRE-RIDE: 2PM body/bike decoration at private location --> contact us!



POST-RIDE: BBQ*party*live-music at private location near Echo Park Lake, address disclosed at ride.



GET INVOLVED --> if you want to help promote the ride, organize body/bike art, help with the after party, or help administer the ride

CONTACT US ASAP: insemillation@gmail.com



WE NEED RIDE LEADERS/STEWARDS to help us manage intersections and be a confident presence for less experienced riders. I know

you're out there!


























Posted by insemillationgears