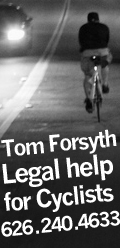 Ridazz Roulette!





STORM THE BASTILLE!

06.1.10




Tuesday June 1st




Meet at 6:45pm (meeting starts at 7pm)



LA City Council's Bicycle Advisory Committee
Hollywood Neighborhood City Hall
6501 Fountain Ave. (between Cole & Wilcox)
Los Angeles, CA 90028

Afterward we're heading to IHOP

Jeremy Grant wrote up a great article about what happened at the Friday night CM and about what you can do to stop this brutality against cyclists:

http://www.bikesidela.org/hollywood-lapd-assault-harass-cyclists-on-la-critical-mass/

Please come and join us on Tuesday at the Bicycle Advisory Committee, that will have LAPD rep. Sgt. Krumer there. He needs to hear your complaints and only if we show up in force will this issue be heard and only then will we have impact on the PD.

Storm the Bastille with us on Tuesday!

If you have questions, you can always call Stephen Box at 323.962.6540. He's been talking to various people at the PD since 3am and filed complaints against the department. Stephen will be at the BAC as well.

Also email your complaint letter to Alex Thompson (alexcthompson@gmail.com) who is on the Cyclists/LAPD Task Force and who is taking the complaints to the next Cyclists/LAPD Task Force meeting.

Discussion is ongoing here.




Posted by illuminateLA