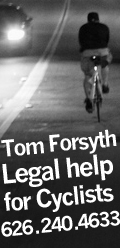 Ridazz Roulette!





Midnight Ridazz #84 - Thee 5th Annual All City Toy Ride

12.10.10


The 5th Annual All City Toy Ride!
Bring an Unwrapped Toy! ($5-$25 value)

Since 2006 Midnight Ridazz has hosted the All City Toy Ride.
This is the ride where we go all out to pay tribute to the awesomeness of our bike scene by giving all ridazz
the opportunity to hook up some local kids with some inspiring toys.

This year we will be gathering toys in partnership with:The Alliance
For Childrens' Rights

BRING A TOY!

All Rides Converge on the Olvera St. Gazebo in Downtown Los Angeles at 10pm!
Angeles. Following toy collection we will ride to a secret after-party with delicious food, seasonal home-brew,
and booty rattling beats. We will keep you entertained until the trains start running.

BRING A TOY!

This is a Doacracy - Everybody is invited to participate:

- If there is no ride from your area: HELP ORGANIZE ONE!
- Spread the word
- Donate via Paypal to allcitytoyride@gmail.com
- Join the google group
- RSVP on Facebook
- DISCUSS on MRDC Forum
- SHARE THIS: http://tinyurl.com/all-city-toy-ride-2010
- BRING A TOY!

RIDES:
DTLA/ ARTIST'S DISTRICT (hosted
by WTFLOL)
DTLA/ UNION STATION (hosted by
WTF the Ride!)
EAST LA (hosted by DeKadenzy)
ECHO PARK (hosted by THE GYPSY
KID / EP MoM's)
GLENDALE (hosted by steven)
GRIFFITH PARK (hosted by
theroyalacademy)
HOLLYWOOD (hosted by Palucha)
LONG BEACH (hosted by Creative
TThing)
MID CITY- (hosted by Misfixed)
NELA / HIGHLAND PARK (hosted by
Rev. Dak & Trenway)
PASADENA (hosted by
Ipsofatso)
SFV/ NOHO (hosted by Avery)
SOUTH CENTRAL (hosted by DGR)
SOUTH EAST LA/ 562 (hosted by
5fixII)
SGV (hosted by SGV MoM's)
WESTSIDE/ CULVER CITY (hosted by
RWNN)


EMAIL CONATCT / Paypal Donations: ALLCITYTOYRIDE (at gmail)

Click the button below to donate to the All City Toy Ride
Donations will used for the All City Toy Ride after party and no other purpose.

If you wish to donate to Midnight Ridazz click the "Support" button at the upper left.
If you wish to support this year's charity: The Alliance for Children's Rights, Bring a Toy
or visit their website: Kids-Alliance.org




*UPDATE*
Another excellent blog post by Agent Orange about the 2010 All City Toy Ride:
Read it HERE


BRING A TOY!










Posted by All City Toy Ride