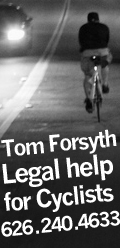 Ridazz Roulette!





LACM - LA Critical Mass - Ride Daily, Celebrate Monthly

04.29.11


LOS ANGELES CRITICAL MASS

LACM is the largest bicyle ride in the City of Los Angeles. It rides the last Friday of every month.

MEET AT WILSHIRE AND WESTERN AT 6:30 PM


ROLLING AT: 7:30 PM


Discover new parts of Los Angeles, meet others, and have fun with a purpose.

The mission of Los Angeles Critical Mass is to organize and promote the fun of bicycling and to encourage cycling as a leisure activity, as a sport or as a means of transportation. LA Critical Mass is, not-for-profit, a-political and non-religious--in short, independent and welcoming to all bicyclists!


If you're new to Critical Mass Los Angeles, you'll find that choosing to ride offers riders of all ages and abilities an opportunity to have FUN, meet others, and join with others encouraging more to ride a bicycle. Over 20% of cyclists choosing to ride are women.

The largest bicycle ride in the great City of Los Angeles, delivers a positive experience to join with thousands of others, who also are empowered by the joy of riding their bicycle throughout the city.



For more information involving Critical Mass Los Angeles visit our official LACM website:

Visit LA Critical Mass Homepage

If you are interested in assisting, your participation will be appreciated and your suggestions valued. There are many ways to assist. Some require just a brief period of time, other opportunities are more involved. Contact us and we will identify an opportunity for your efforts.

For Questions, Suggestions or Comments email us at the email address posted within the image (click the image to increase the size of the image) or post on the forum on the LACM website:

Visit LA Critical Mass Homepage

NOTE: A couple of Los Angeles Police Department Officers who support our efforts to make LA Critical Mass rides positive, rather than negative have individually come out of pocket and given Los Angeles Critical Mass over $1600.00 worth of new helmets for riders of Los Angeles Critical Mass who can not afford a helmet and are under the age of 18.

These helmets are new. There are a variety of sizes and designs.

If you want a helmet, send an email to gear@LACriticalMass.org

Only those selected to get a helmet will receive instructions with the time and address to pick up the helmet on Friday April 29, so it can be worn on the ride. Be sure to check spam or bulk email in case your reply ends up there.

Note: there are a very limited number of helmets so we can not promise everyone who sends an email will receive a helmet. The rider must be present at the place and time within the email on April 29 or the helmet will be given out to another rider.




Posted by lacriticalmass