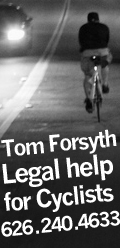 Ridazz Roulette!





Midnight Ridazz #107 GANG WARS II

11.9.12


To help get things rolling for BIKE WINTER LA this ride will include a series of events to rival all that is holy

EVENT ONE: RELAY RACES
EVENT TWO: POLO
EVENT THREE: JOUSTING


REGISTRATION OF YOUR GANG MUST BE AT LEAST FIVE (5) MEMBERS
REGISTRATION STARTS @ 8:30PM AND ENDS @ 9:20 PM
FOR TIME PURPOSES THERE WILL BE EIGHT (8) GANGS
IF YOU WANT YOUR GANG TO BE REPRESENTED THEN MAKE SURE TO ARRIVE IN TIME TO GET A
SLOT.

MEET @830PM
WE WILL MEET @ THE ECHO PARK REC CENTER on BELLEVUE AVE right near the 101 freeway

around 9:30 there shall be a briefing of events and how this ride should be carried out!!!!

WE ROLL @ 10PM

individual medals will be handed to the winning gang of each event
and a trophy for the WINNING GANG of the night

during competition and the ride please respect your fellow man and woman
dont tag each spot with your gang signs and what not
or leave piles of feathers and puddles of paint (not cool)

each gang should try to match and wear your groups patches or colors to make judging more easy

each rider should bring: lights tools tubes and so forth

EACH RIDER SHOULD NOT BE LEFT BEHIND

each rider should leave: bad attitude unsportsmanlike conduct, stealing tagging and so forth at home

also know that MY BIKE GANG IS COOLER THEN YOURS :D

ALSO NO BEER STOPS SO BRING ALL THE SHIT YOU NEED

******!!!!!!!!!!!!!!!!!!!!!!!!!DISCLAIMER!!!!!!!!!!!!!!!!*******


all riders and participants ride at their own risks. no one on this ride is responsible for anyone other than
themselves.
the host(s), organizers, participant or any other party associate with this ride are not liable for injuries or
death suffered during the ride. no one is responsible for loss or damage to body or property.

YOU RIDE AT YOUR OWN RISK.







Posted by dudebra420