spoke'n art aug

Thread started by
veronica
at 08.11.11 - 10:02 pm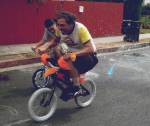 spoke'n art ride sat aug 13 7pm
08.13.11
What: a slow and fast ride two groups in one that go to 4 or five art galleries in the northeast. completely different than swarming the masses that happened thurs we are a small group , the galleries are quality and the perfect distance from each other and the ride is mostly downhill.
meet 6pm leave 7pm
flying pigeon la 3714 figueroa
bike oven 3706 n figueroa
plus art at the end in the oven The Art of Amozorrutia "Concepts and Visions"
chicken leather promises kiddie bike races plus tinker bell needs to be lit on fire!! Yes the pyromaniac in me comes out sat night it's our ritual, luckly we didnt make this one our selves like the twin towers pinata which nearly put the oven on fire.
reply