Salmon on a Tadpole!!!!

Thread started by
DArK ENERgY
at 09.1.11 - 1:51 pm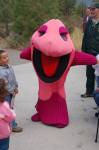 HAHAHAHAHA!!!!!
It's true! I saw it earlier today. This freaking old guy was riding a tadpole recumbent going the wrong way down Venice! I yelled at him, the idiot was just yelling back. Doubt I accomplished much, other than to let know I wasn't happy to see him. :)
reply
It's no use.
Even if you try to explain it all in a friendly manner. I've tried it plenty.
Dense motherfuckers don't give a fuck.

gado_gado
09.1.11 - 1:55 pm
reply