Miracle Mile Artwalk on the 30th

Thread started by
User1
at 05.28.09 - 5:14 pm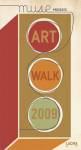 Lots of stuff scheduled for this weekend in regards to the Miracle Mile area.
MIRACLE MILE ART WALK joins LACMA/Muse for May 30 Art Walk
<!@#$?="2">
Saturday, May 30, ART WALK 2009 over 30 galleries on Wilshire Blvd., La Brea Avenue and Beverly Blvd. will be opened for a self-guided tour. Enjoy artist lectures, collection seminars, live demonstrations and performances and more. Take advantage of free general admission to LACMA, Peterson Automotive Museum, La Brea Tar Pits and the Craft and Folk Art Museum.

ART WALK HOURS: 11-6 p.m. (see websites for specific gallery times)
EVENT HOURS: 12-8 p.m.


Download map and more information:
http://www.lacma.org/muse
http://www.midcitywest.org
<!@#$?="2">
E-mail:
info@midcitywest.org
<!@#$?="1">Please direct e-mail inquiries to the organizer's address (above); DO NOT use "Reply" button, it will send to ArtScene.
To view this announcement online:
http://artscenecal.com/0509/MiracleMileAW0509.html
Art Walk Special Programming
All programming is free unless otherwise noted.
What: Films by Joe Merrell on Display: "Night Version" (2009), "The Cruel Month" (2008),
"The Unity and the Particular" (2009)
Where: Page Museum
Time: 9:30 AM - 5 PM

Each work reflects Merell's ongoing interest in representations of time and dimensional space. "The Unity and the Particular" and "The Cruel Month" consist of multiple semi-transparent, temporally offset layers of video in anaglyph 3D.
What: Stretching Session Hosted by Boot Camp LA

Where: La Brea Tar Pits Park
Time: 11:30 AM

We've heard you talk the talk but can you walk the walk? Boot Camp LA will make sure you can with a pre-ArtWalk stretching session. We'll march en masse from the Page to the Merry Karnowsky Gallery, ending with some refreshments and a fresh start to a marvelous day!
http://www.bootcampla.com
What: PAINT:LAB in the Park Begins
Where: La Brea Tar Pits Park
Time: 12 NOON

Come try PAINT:LAB when it goes mobile from noon to 6 pm at the Tar Pits. Express and explore your creativity through the medium of paint, without having to setup your own studio at home. PAINT:LAB provides the paint, brushes, and easels for you! Nominal charge for painting materials, TBD.
http://www.paintlab.net
What: Latin Art Collection Seminar
Where: Couturier Gallery
Time: 1 PM

Come sit in on a lecture discussing trends in contemporary Latin American art and the Latin American art market. In particular, the talk will focus on Cuban art and the recent Havana Bienal.
What: Artist Talk with Jane O'Neal
Where: DNJ Gallery
Time: 1:30 PM

O'Neal's new series "Environmental Memory: Part 1 -- Home Grown" utilizes bold colors and available lighting. But instead of a camera, she uses a flatbed scanner to record images of plant matter from her backyard. Join DNJ Gallery to hear O'Neal on her current exhibition.
What: Mehndi Magic: Indian Henna Tattoos. A Listen, Learn & Make Family Workshop
Where: CAFAM
Time: 1:30 - 3:30 PM

Mehndi
, the art of henna painting on the body, has been practiced in India and other areas for thousands of years to bring love and prosperity. You and your friends can use the henna paste to create beautiful and intricate tattoos that will wear off in about a week. Recommended for families with children ages 3-12. $6 per child/ CAFAM Family Passport and above - FREE
RSVP Required. Please call (323) 937-4230 x50 or email:
workshops@cafam.org

What: Book Signing/Artist Talk with Joni Sternbach
Where: Edward Cella Gallery
Time: 2:00 PM

Joni Sternbach will be on hand to sign copies of her newly released monograph,
Surfland,
published as a result of her having received the 2007 Critical Mass Book Award. Copies of
Surfland
will also be available for purchase.
What: Artist Talk with Seven Artists from the Exhibition
Where: Loft at Liz's
Time: 2:30 PM

Artists Luigia Martelloni, Pamela Mower-Conner, Renee Fox, Juan Rosenfeldt, Craig Cartwright, Lark Pilinsky, and Monique Birault will be on-hand for a roundtable discussion and to answer questions.
What: Artist Talk with Kenton Nelson
Where: Peter Mendenhall Gallery
Time: 3:00 PM

Be sure to catch Kenton Nelson's exhibition entitled
MOS AICS
, and don't forget to stick around for the official celebration of the exhibition opening later in the evening.
What: Conversation w/ Artists
Where: ACME Gallery
Time: 3:30 PM

Artists Tony Feher, Allison Miller, and Mitzi Pederson will be present to discuss their work and take audience questions.
What: Live Painting/Graffiti Art
Where: Page Museum Terrace
Time: 4-9 PM

Our artists are transforming the exterior of La Brea Tar Pits into a giant canvas- literally! We're canvassing the Page Museum Terrace and providing live demonstrations by Crewest artist Gustavo Alberto Garcia Vaca and special guests including high school students from the Heart Project arts organization workshops.
What: Happy Hour Begins
Where: Participating Galleries
Time: 4:00 PM

Are we there yet? You've been perusing, experiencing, ooh-ing, ahh-ing and enjoying all day- now it's time to kick back. So grab a drink, sip slowly and appreciate the down time before the El Rey storm, all thanks to sponsors Grolsch, Malibu Family Wines, Pernod. Alcohol stays in the galleries, please.
Participating Gallery List:
David DeSanctis Gallery, Steve Turner Contemporary, Perrell Fine Art, Lawrence Asher Gallery, Jack Rutberg Gallery, DNJ Gallery.
What: Latin Sounds featuring Angel Lebron y Su Sabor Latino
Where: LACMA/ Hancock Park
Time: 5-7 PM

The hot New York salsa sound returns to LACMA for the opening concert of the 2009 Latin Sounds series. With their Paladium-style look you'll feel like you're back in the 1960s surrounded by the NYC classic street salsa sound. Band Leader/Director Angel Lebron on congas and has worked with Olatunji, Johnny Colon and his Latin Jazz Sextet, La India, Ina Kaina, and Hermanos Colon.
What: Performance by Zackary Drucker
Where: Steve Turner Contemporary
Time: 6:15 PM

Artist Zackary Drucker will provide performance art to accompany his exhibition titled,
The Inability to be Looked at...
The recording of this performance piece will later be available for viewing at Steve Turner Contemporary as part of the exhibition.
What: Bollywood Step Dance choreographed by Yogen Bhagat
Where: LACMA/BP Grand Entrance
Time: 7:30 PM

After
Slumdog Millionaire
, interest in Bollywood-style dancing peaked, so we're bringing it from India to the steps of LACMA for you to enjoy! The performance is choreographed by Yogen Bhagat, whose
Bollywood Step Dance
crew has been seen on
The Jay Leno Show
,
Ellen
, NBC's
"ER",
CW's "
Melrose Place
", at the Hollywood Bowl with Oscar Winning Composer AR Rahman, and at UCLA Royce Hall, to name a few.
http://www.bollywoodstepdance.com
What: ArtWalk After Party
Where: El Rey Theater
Doors Open: 8:30 PM | Show Starts: 9:30 PM

Muse presents the ArtWalk 2009 After Party featuring Vaud & the Villains, an eighteen-piece band with sexy, sultry dancers playing New Orleans-backroom-slow-drag-high-energy-boogie-woogie-barrelhouse blues. Join us as we transform the El Rey into a Prohibition-era speakeasy for a night of fantastic music and drinks provided by Grolsch, Malibu Family Wines, and Pernod! Purchase tickets at:
http://www.lacma.org/support/Muse.aspx