Commerce Weekly ride

Thread started by
apineda
at 06.4.09 - 11:19 am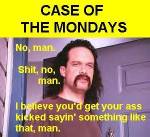 got a case of the Mondays! Commerce
06.22.09
Weekly ride starting June 22 at 7:30 at the Commerce shopping center in front of the Right Aid pharmacy.
Located near the corner of Goodrich and Whittier. Less than a mile away from Monterey Park and Montebello, yards away from East LA.
Fixed and road only!All types of riders welcomed and drinking is not discouraged.
The pace Will be moderate and no rider will get left behind.
Please bring the essentials tubes, lights, tools etc.
First ride will head to DTLA
Stealing and tagging will not be tolerated