Pasadena to Spoke'n Art Ride

Thread started by
thinkpeace
at 04.10.09 - 4:14 pm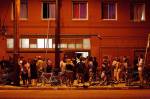 A group of us will be riding to the Spoke'n Art ride from Memorial Park in Pasadena. We will meet at Memorial Park at 5:45 PM,near the playground, and leave at 6:15 PM sharp for Spoke'n Art.
You can return on the Goldline if you want (last trains from the Bike Oven after party/Heritage Square: 11:00, 11:20, 11:40, 12:00 )
Spoke'n Art details:
http://midnightridazz.com/viewStory.php?storyId=2751
Choose your starting location...
1. Pasadena Meeting location:
Memorial Park
150 N Raymond Ave
Pasadena, CA 91103
Meet 5:45 PM, Depart at 6:15 PM
2. Highland Park Meeting location:
N Figueroa St & York Blvd
Los Angeles, CA 90042
Meet at 6:30 PM, Depart at 7:00 PM
3. Play catch-up - call 714-906-8686 or 310-902-5439 to find us
Eric
reply