lebowski fest bowling party tonight

Thread started by
robert stanfield
at 05.8.09 - 10:22 am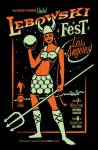 May 8th - Lebowski Fest LA Bowling Party @ Cal Bowl
Bowling, costume, trivia and other contest with special guests Jeff "The Dude" Dowd, Jon Polito (Da Fino), Mark Pelligrino (Blonde Treehorn Thug), Phlip Moon (Woo the rug pisser), Jim Hoosier (Liam), Jesse Flanagan (Little Larry), Lu Elrod (Waitress) & Robin Jones (Ralph's Checkout Girl)! 9pm. Ages 21 and over.
Cal Bowl is at 2500 E Carson St., Lakewood, CA 90712
Ticket includes general admission bowling* and shoe rental. *Bowling is general admission and not guaranteed.
General Admission $27.50
hi guys. dont know how many people would be into this but thought i'd post it up.looks like fun.in my neiborhood too.
reply