ROADBLOCK ON BIKE TALKS

Thread started by
coolassmike
at 06.22.11 - 2:05 pm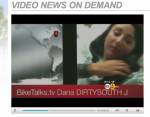 SPECIAL LIVE DISCUSSION WITH ROADBLOCK (OWNER AND OPERATO OF MIDNIGHTRIDAZZ.COM) AND COOLASSMIKE IN PERSON
We will be streaming Thursday afternoon at 5:00 from an undisclosed location and discussing the following BUT NOT LIMITED TO these topics:
1. TheAccident involving the mowing over of 11 cyclist and the handling of the incident by the LAPD and the Media at large
2. The issues surrounding the frequency of Hit-Run incidents involving Motorist and Cyclist
3. Safer Streets by Design for cyclist and pedestrians
4. What we can do as individuals and as a CYCLING COMMUNITY to make change happen!
Special guest will be added to the lineup as confirmed!
Tune in to watch the discussion unfold.
Http://BikeTalks.tv 5:pm - the conversation ends
****EDIT**** We have got to figure out how to turn off the autoplay on this!!