David Roy Photography show Fundraiser for k-town ridazz

Thread started by
veronica
at 07.8.11 - 4:45 pm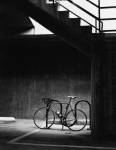 . David Roy is putting all proceeds to go to K-town ridazz. Large BW $20 to $40 for real prints Saturday July 9 Bike Oven
At the bike Oven we do a ride every month for
about 6 years now that takes a
tour of all the North East LA galleries. NELA art but I wouldnt call it a walk because everything is sooo
spread out, it's actually quite the
most perfect ride on bike. It's goood for even your parents( sight sound amount of stops and friendly
factor) We have mastered the art of
the ride because we have charlie with the iron horses taking the fast people, people who want to
challenge themselves and then we have
the slow ride lead by joseph with dutch cargo bike(that shit is heavy) so really DFL doesnt exist but if
it does we have the tail end taken
care by Chicken Leather which is I had no time to check if my bike was working or I'm a chick( hey
dont get mad Im slow too) Maybe I went
to in depth but really you want to know what your getting into. This art ride has some of the best
galleries in the city, WHY? I'll tell you.
Sheperd fairy has stuff up at THIS gallery this month . MIke Kelliy has a studio on eagle rock that hosts
shows. Plus a pleathera of other
galleries. You can not miss moryork, only open on this day with a studio full of rareities, I cant describe
it but go atleast once in your life.
Heck borfo used to help make some of the bottlecap art when he was a kid there. Plus waiting at the
oven we have some sort of art show
this month is bike related and a fellow biker. David Roy with mad photography skills and really good
prices like in the 20 to 40 range for real
prints.
Ride meets 6pm leaves 7pm from Bike Oven Flying Pigeon 3708 figueroa highland Park
off of the heritage square gold line station follow the illegal bike sharrows and your there.
Art reception 10pm and on. David wants to hook up a band to play more info on that. see you there. It's
really no sweat off your back. Total
10 to 14 miles but you dont feel it because we stiop alot.
reply