aggro driver caught on tape!

Thread started by
Velocipede
at 07.17.11 - 5:16 pm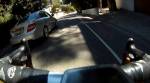 So I'm out this afternoon having fun with my GoPro, minding my own business at 40mph when this benz passes within less than a foot of me. I was on Beverly Glen where the speed limit is 30 (sorry for speeding). I really wish they would give me 3 at these speeds. It's a silver C-Class, looks like their license plate number is 6EGS758 for what it's worth. If your having fun riding in the canyons, just be careful for entitled assholes like this. You're never going fast enough for them.
reply
If you were in LA, not BH, then you may call the non-emergency police number at 1-877- 275-5273 ,and give them all of the information and they will look up the license plate and/or put out an all points bulletin. If you caught it on tape he can be sited for reckless driving and endangerment. He was speeding and he was too close.
Good luck!

Girl Power
07.17.11 - 6:23 pm
reply