CicLAvia Community Group Ride

Thread started by
gado_gado
at 06.29.11 - 10:25 am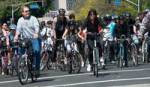 Facebook Event -
https://www.facebook.com/event.php?eid=183625548362856
Time - 10 July · 12:30 - 15:30
Location - Departs Hollenbeck Park on 4th Street at St. Louis Street in Boyle Heights
Gather 12:30pm, DEPART 1pm PROMPTLY!

With no CicLAvia on July 10th, we're instead hosting a group ride. No street closure. Riding in a group, with traffic. Obeying traffic laws. Ride is about 10 miles, mellow leisure pace, all welcome - though you'll need a working bike, and ability to ride 10 miles. We'll be riding some of the areas where CicLAvia expansion is planned for October 9th, with brief stops at community landmarks, speakers telling about community history, etc.

You can ride free... but there's a suggested donation of $5, and we encourage folks to buy t-shirts, buttons, and some cool new CicLAvia schwag we'll be rolling out that day! Your contributions help make CicLAvia happen!