ROAD vs FIXED RACE

Thread started by
icarus
at 07.24.11 - 10:07 pm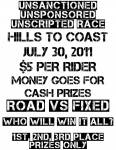 We will meet at the beginning of Beach Boulevard in La Habra, California near the Fresh & Easy store to begin the race of a life time.
Address:
Top of Beach Blvd. in La Habra, CA
2001 W. Whittier Blvd.
La Habra, CA
9:00am Registration
10:00am RACE
1:00pm Awards and Conclusion
Registration is $5 per rider. The money goes towards the cash prizes.
Road vs Fixed! Who will win it all?
Prizes for 1st, 2nd and 3rd place ONLY! No split divisions (age, gender, etc).
Stay tuned more details to come...
Please RSVP so we can get a preliminary count of the possible prizes for 1st, 2nd and 3rd.
*Race at your own risk!

BLOG PAGE

MIDNIGHT RIDAZZ

LA FIXED

ROUTE
reply
this is the first annual race, next year, depending on the turnout this year, we will have bigger prizes like frames, parts, etc.

icarus
07.24.11 - 10:08 pm
reply