bike in movie Tripltes of Belleville

Thread started by
veronica
at 04.4.09 - 5:54 pm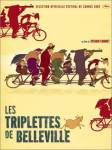 Ride in Movie-Triplets of Belleville plus chicken Leathers adventures/feel my legs, bike summit/taking requests
04.5.09
okay we got a fat tire keg so we need drinkers. Movie starts 7:30pm get here early to get your drink on plus plenty of food left over from the Flying Pigeon opening. First we'll show Chicken Leather's picks of rides you wish you were there for and then the Triplets of Belleville, picked by quarum. Fisrt bike movie to try out our new projector. So we will have hopefully two screening a month a documentary and a fun movie, this time it's the fun one. Beer food, friends , who could ask for anything more on a sunday evening.
BIKE OVEN
3706 n figueroa blvd @ Pasadena ave
highlanfd PArk
Bikeoven.com
Did I mention Freeeeeeeeeeeeeeeeeeeeeeee! Maybe donate for the Beeeeeeeeeeeeeeer! See you.
reply
The Triplets is a really great movie.
I might show up in some of the Feel My Legs footage.
Fat Tire beer?
I gotta get out there.

Creative Thing
04.4.09 - 6:48 pm
reply