2009 Greenbrier Trail Bike Trek Fundraiser

Thread started by
eboysoledad
at 04.15.09 - 8:55 pm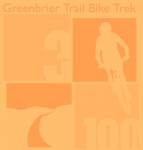 ... Hey guys! the American Lung Association of West Virginia is holding its 2009 Greenbrier Trail Bike Trek fundraiser this May 14-17, 2009. Please click to support my friend, Dr. Yvonne Yang, as she and her EMS team cycle and assist the riders of the event. Thanks!
http://www.mrsnv.com/evt/e01/team.jsp?rid=893347&id=2338&acct=2623077220&mid=521866
May 14-17, 2009
2009 Greenbrier Trail Bike Trek
Celebrating 22 years on the Trail
Join us for our 22nd ride of Greenbrier Trail Bike Trek, a pleasurable three-day, 100-mile or an optional 2-day 70-mile mountain bike adventure that combines unforgettable mountain and river scenery with the unique experiences of the robust Greenbrier River Trail. This ride is a full service ride, providing lodging, food, shuttle, gear transportation. event mechanics and medical crew.
After each day's ride you will enjoy a wonderful meal with your fellow riders. After dinner, enjoy an evening full of activities and games or a relaxing evening in your room.
If you have already registered, thank you and we look forward to having you. If you have not registered, the good news is that you still have time!! You won't want to miss this the adventure on Greenbrier Trail Bike Trek.
Help us reach our 2009 goals!! Register today and invite a friend.
Cyclist with varying levels of experience are invited to particpate.
BEGINNERS ARE WELCOME!!
Highlights
Greenbrier River Trail is One of the Top 10 Trails to Ride
Ride the entire Greenbrier River Trail
Fun Ride for All Ages and Cycling Abilities
A NO WORRIES RIDE
Food, Lodging, Transporation, Gear Truck, Event Mechanices, Sag Support and Medical Crew provided
Awards and Prizes
Fun Acitivites Daily
Poker Run, Silent Auction, Music, Camp Fires, Story Telling
Long Sleeve T-Shirts for All Participating Riders
Join us for another great adventure on the Greenbrier Trail Bike Trek
Looking forward to seeing old friends and welcoming new friends.
The American Lung Association is the nation's oldest voluntary health agency originally organized to fight a specific disease, that being tuberculosis. Today, the American Lung Association of West Virginia continues its fight against lung disease through education, community service, advocacy, and research. Our mission is to prevent lung disease and promote lung health.
The American Lung Association® has many programs and strategies for fighting lung disease. Among these are:
Asthma. Open Airways For Schools is the American Lung Association's elementary-school education program for children with asthma. In West Virginia we also serve as the administrator for the statewide network "West Virginia Asthma Coalition."
Tobacco control. The American Lung Association® offers a variety of smoking control and prevention programs targeted to specific groups-some aimed at adults, others intended for school use, and still others designed to build bridges between the home and school and involve community leaders along with parents and educators.
Teens Against Tobacco Use (TATU), is an important part of the American Lung Association® drive to eliminate tobacco use among youth. We also have a smoking cessation program for teens, called Not On Tobacco, or N-O-T. In West Virginia we are also responsible for overseeing a teen tobacco control movement called "RAZE."
For people who already smoke, the American Lung Association® offers its Freedom From Smoking® program, considered the "gold standard" of group-setting, peer-support smoking cessation programs.
Chronic Obstructive Pulmonary Disease. The American Lung Association has helped patients through its Better Breathers Clubs. These support groups provide peer support and education needed to understand and better manage the disease. In West Virginia "Respiratory Rally Days" are held to help raise awareness of COPD.
Environmental health. The American Lung Association is active in the pollution control arena and has become the leading public advocate for clean air, as well as the chief source of information and public education on the health hazards of air pollution.
Research and professional education. the American Lung Association funds a broad program of grants and awards designed to further both basic and applied research in lung function and lung disease.
Advocacy programs. The American Lung Association's advocacy programs seek to influence the development and enforcement of laws and regulations related to lung health at the national, state and local levels, providing authoritative information to policymakers.
reply