Stolen Pista in LBC

Thread started by
apineda
at 04.5.09 - 3:26 am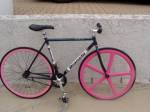 This occurred at the expo re post from IEfixed please help out
2 bikes were stolen from long beach around 8:30 mine being one of them. i need all the help i can get to bring it home.
keep a eye out of it.
The dude who took are bikes his name is gilbert and live in long beach. mexican dude with a saved head and he going around and stealing peoples bikes
so if anyone knows of this dude let me know asap!
phone = 909 322 8973 if you see or hear anything about it.
the other one is a white concept pic up soon
reply