(ICE) SKATE AND DESTROY 2015

Thread started by
barleye
at 11.9.15 - 1:08 pm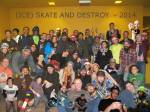 This is the 8th year of (Ice) Skate and Destroy!!!!!!!!!!!!!!!!!!!!!!
Take a night off (or at least an hour) and Ice Skate in DTLA with other ridazz at the
Pershing Square Ice Skating Rink.
We'll DOMINATE from 8:30 - 9:30 pm. Get there at 8PM to rent skates and hang...
Pershing Square
532 South Olive (5th and Olive)
Los Angeles, CA 90013
$9 to skate + $4 skate rental ($13 TOTAL)
GROUP RATES
Group rates are applicable Monday through Thursday.
25 – 39 skaters – $1 discount per person
40 or more – $2 discount per person
http://holidayicerinkdowntownla.com/
AFTER SKATING, WE'LL RIDE OUR BIKES TO GET PIZZA AT PIZZA NISTA ON 7TH AND SANTA FE.