•••••• ART CRASH the short film

Thread started by
carolin
at 10.4.16 - 3:50 pm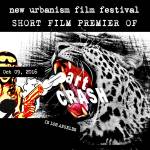 in the creation this week !
Premier / Awards Presentation & Reception
is this Sunday October 9th, 2016 at 7pm
www.ckewer.com
reply
The Art Crash short film is now up on my website www.ckewer.com !
The music project is still in the making or better on hold. Angelo is taking some time off to create the music for. I hope you will pick it up again ...

carolin
responding to a
comment
by July
10.11.16 - 9:15 pm
reply