stolen bike

Thread started by
Yungnadhi
at 01.28.18 - 9:12 pm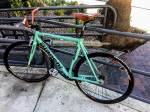 hey guys, my bianchi bike got stolen yesterday infront of the LA fitness gym on El Centro hollywood. If you happen to spot it please call me 6514425354 or 911 and report the felony suspect. Thanks!
reply
Hey George, I've had a wheel stolen from the same place. I know it's a longshot but it's worth checking out. There is an encampment on Santa Monica blvd. and Lodi Place a block from Gower. The last time I went by they had a gang of bikes they were "working on". Good luck.
P.S. if you lock your bike up at this location do not use the parking garage! Put it as close to the front door as possible.

TROY
01.29.18 - 10:53 am
reply