Fletcher Dr - Meeting Tonight

Thread started by
the reverend dak
at 06.13.17 - 12:02 pm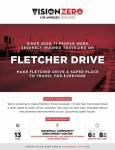 For all cyclists and pedestrians, especially those that live or work in Atwater Village, Silverlake, Glassell Park, or Elysian Valley (Frogtown), LADOT is hosting an open house, community meeting, regarding traffic calming on Fletcher Drive between San Fernando Rd and Riverside Dr.
Unfortunately, there is an active movement, backed by some NIMBYs on Nextdoor.com and the Chamber of Commerces of Atwater Village and Silverlake to thwart LADOT\'s plans for traffic calming Fletcher. They want to keep it a FREEWAY, because they think more lanes equals less traffic, but everyone knows, and the evidence shows, that more lanes actually means more cars and more traffic.
Vision Zero is proving to be 30% more effective in saving lives, and preventing injuries, than city streets not implementing it.
A 19-year-old man got killed last December, 3 days after Christmas, by a HIT & RUN, we can\'t let this happen again. Car culture kills, car entitlement is BS.