ARMENIANS!!!

Thread started by
DIRTY HIPSTER
at 04.24.13 - 11:13 am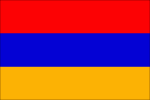 MOST OF YOU GUYS PROBABLY DON'T KNOW, BUT TODAY IS THE REMEMBERANCE DAY OF THE ARMENIAN GENOCIDE, DOESN'T MATTER WHAT THOSE TURKS SAY, IT HAPPENED. LISTEN TO SYSTEM OF A DOWN, THEY KNOW WHAT'S UP.
reply
Many years ago, I taught at an Armenian school in Pico Rivera. I got schooled in their history while there.
The reason every American President since, including the current occupant, has ignored the genocide of over one million Armenians by the Turkish government in 1916-17, is the strategic military bases the Turks allow the US to maintain in their country.
The turks have yet to issue an apology or even an acknowledgment of what they did to their own citizens.

Creative Thing
04.24.13 - 5:03 pm
reply