FIXIE/PARTS FOR SALE!!!!

Thread started by
livingnicely
at 08.11.13 - 11:28 pm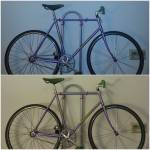 2009 45.5cmx45.5cm reynolds 631 airhardened butted steel tubing #bobjackson frame, #chrisking headset, #nitto #njs pearl9 stem, #campagnolo seat post, #bontrager racer elite front wheel, #philwood bottombracket, 165 50t njs suntour #superbepro crank, #izumi njs track chain, 19t #euroasiaimports cog, 36 hole highflange slotted slr #philwoodhub laced to #mavic openpro, and #gatorskin tires. Sad to see this go....
Message me at:
nicelyabel@gmail.com
t: @nicely85
ig: @nicely85 & @livingnicely
reply