Far West Courier looking for smart strong riders

Thread started by
iggycortes
at 09.16.14 - 12:01 pm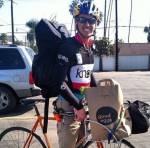 Hey guys, I need a few riders for food delivery and light courier work in Santa Monica.
Pay is delivery fees + tips. shifts run 10am-5pm and 5pm to 10pm.
http://farwestcourier.com/rider-opportunities/
Few things a must:
MUST have working brakes on bike.
Must have a high level of fitness
Must have a solid working bike,
Must be over 20yrs old.
Must have a LARGE BACKPACK (no slings, backpack must fit a milk crate inside of it)
Must have cell phone with internet.
Must have an AWESOME attitude
Must be LA area local,
Having a Cetma or Porteur rack style front loader is a huge plus::
http://farwestcourier.com/rider-opportunities/