CAR-FREE FRIDAY+CITY OF LIGHTS!!

Thread started by
aurisha
at 04.21.09 - 11:16 pm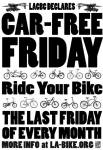 CAR-FREE FRIDAY+CITY OF LIGHTS!!
04.24.09
CAR-FREE FRIDAY
Showcasing CITY OF LIGHTS PROGRAM
WHEN: Friday April 24th, 8:00 am
WHERE: MacArthur Park at 7th and Park View
On Friday April 24th, Los Angeles County Bicycle Coalition (LACBC) will be kicking off their City of Lights Program on the fourth official "Car-Free Friday" bicycle ride. Join us and Councilmember Ed Reyes and help hand out bicycle lights and safety tips to low-income Spanish speaking cyclists before we ride to City Hall from McArthur Park.
LACBC CITY OF LIGHTS PROGRAM provides bicycle lights and safety information to low-income Spanish speaking bicyclists and pedestrians to minimize the risk of injury. While low income riders benefit from the advantages of riding, bicyclists and pedestrians can be inexperienced or unfamiliar with safe bicycling and walking habits.
This month's goal: Get 2 friends or co-workers who do not ride regularly yet to pledge to ride on Friday, March 27th.
ps. Ed Reyes was the councilmember who issued the motion to revisit the bicycle license and its relevance. It is because of his initiative that bicycle advocates were able to get the moratorium on the Bicycle License Law.