Somewhere to Live

Thread started by
steph
at 04.23.09 - 3:17 pm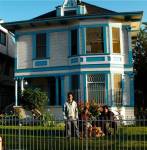 A room in my house is up for grabs beginning this summer.
You'd be residing with me and 6 wonderful, and fairly neat, boys at 1128 w. 30th st. near USC.
Somewhere in between 630-730 a month depending on which room you end up getting...
- Utilities included
- Dish soaps, paper towels, toilet paper included
- Free internet
- Single Bedroom
- Someone comes to clean the common areas once a week
- Fully-furnished (will move furniture out if you have your own)
- Month to month rent
- Too many channels for me to count included
- A bunch of other little extras that escape me at the moment
You:
- preferably female
- hopefully a cyclist
- marijuana tolerant/participant
- chill
Message me for more info. stepharc@usc.edu.
reply