critical smash

Thread started by
SKWIDSKI84
at 10.12.11 - 11:23 pm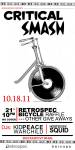 CRITICAL SMASH IS A FRIENDLY BIKE PARTY FOR EVERYONE !!!!
RIDE YOUR BIKE TO THE BAR AND GET A FREE RAFFLE TICKET!!!!
FOR THOSE OF YOU THAT DONT OWN A BIKE ITS ALL GOOD!
RAFFLE TICKETS ARE ONLY 1$!!!!! THIS WILL BE YOUR CHANCE TO WIN YOURSELF A BIKE!
WE WIL BE RAFFLING OFF A BRAND NEW RETROSPEC FIXIE!!!
http://www.retrospecbicycles.com/
FOR THOSE INTERESTED WE WILL BE HAVING A SHORT RIDE, STARTING ON
BUNDY AND PICO .......ENDING @ BARCOPA.
MEETING AT 9:00PM ROLLING OUT AT 9:30PM.
DJS: KID PEACE AND WARCHILD!
HOSTED BY: SQUID ROCK.
LOCATION: BARCOPA - 2810 MAIN ST SANTA MONICA CA 90405