Venice Haunted House

Thread started by
Trog
at 10.15.11 - 9:57 pm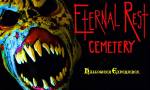 If you know of anyone riding on the West side Saturday, October 29 or Halloween night, please pass this info along.
Take a charmingly deadly trip though our graveyard and morgue.
Meet some of the delightful undead.
Maybe even hang out for an eternity.
Admission if free. Donations of various blood products are acceptable though.
http://www.VeniceHauntedHouse.com
http://www.facebook.com/groups/EternalRest/
Who: Steve Rose and friends.
Where: 414 Rose Avenue, Venice, CA 90291
What: A truly chilling haunted experience. (Free)
When: Saturday, October 29 and Halloween night starting at sundown (NOT Sunday 10/30)
Why: Because we love Halloween, and we LOVE to scare people. (Not recommended for kids under 13.)