AIDS LifeCycle 2012 Registration!!!

Thread started by
AnnetinomY
at 10.17.11 - 2:04 pm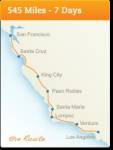 I'm hitting you up about the AIDS LifeCycle next June. I want to give you a few details and an opportunity to ask me anything about the ride that you're curious about. I'm only contacting those people I feel may have a sincere interest in participating, and you really fit that bill so... Here we go!
Info about the cause:
HIV infection rates continue to grow... Although there are treatments that can help keep people healthy longer, we continue the struggle to stunt the spread. Currently, we are experiencing the highest numbers of infection this disease has ever had! Possibly because people are living longer lives due to the advancements we've made in treating the infections. This, coupled with the belief that it is no longer a serious problem seems to contribute to thousands of new infections.
AIDS LifeCycle creates awareness of these issues while raising money to continue the fight against HIV/AIDS in California.
Let me give you the logistics:
Route:
From San Francisco to Los Angeles, it's a 7 day ride, averaging about 100 miles per day.
Dates:
June 3rd – June 9th 2012. You will have to get yourself and your bike up to San Francisco on June 2nd for the orientation and sign in.
Now, the requirements:
Registration:
All riders must pay $75 registration fee ($55 when you use the discount code StreetTeam7 at the time of registration). I suggest that you fundraise the registration fee along with the donations so that you really show friends and family that you are serious about this adventure... It is encouraged to register as soon as possible so that you can take advantage of all the tools we have available to fundraise and train for the ride!
Fundraising:
All participants must raise $3,000 to donate to the LifeCycle. All donations are tax deductible, and will be used to provide life-saving medications, treatments and general services for those who are living with HIV and AIDS.
What to expect:
Fully supported:
I mean from the moment of registration on through the end of the ride! Once you register, someone will contact you to discuss further and questions you have, the best strategies on fundraising and how to train for the upcoming ride. They will put you in contact with many others in your area who are also participating in the ride so that you can use your fellow riders to support and inspire you throughout the training period.
On the ride:
Along with 2,500 other riders, the road crew will stand by, making sure everything you need is provided. They have camp set up for you every night, break it on down every morning and feed you delicious healthy meals 3 times a day with catered rest stops in between. You'll meet people from all walks of life and see the coast of California in a way you never have before... By BIKE!
At camp:
After a long day in the saddle, you will ride into camp and have the comforts home and more waiting for you... Hot showers, massage tables, dinner and snacks, live entertainment or a simple card game by the fire. YAY VACATION TIME!!!
Soooooooo. What do you think? I've already mentioned that this is going to be my first year on the ride... How about you? You in, or what? Give me a call or reply to this email and let me know if you're about to take this trip of a life-time with me. Even when the representative contacts you, I'd love it if we can keep in contact to support each other while we prepare. Remember to use the code StreetTeam7 if you register online (www.aidslifecycle.org) – You'll get the groovy discount, plus... It let's my bosses know I'm doing my job!
Talk to you soon!
Annie
(AKA Animosity AKA Orphan Outlaw Annie AKA Raggedy Annie)
323.252.0083
anonymousinkind@gmail.com
I Love You, Bye