ACTR - POLAROIDZZ - FUN RAISER$

Thread started by
trickmilla
at 11.2.12 - 9:05 pm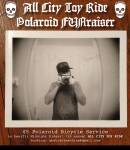 ¡Hola Ridazz!
The northern lights are bright tonight and santa has good news for all you little elves this year who want to contribute to next year's toy ride.
I will be offering a bike based Polaroid service throughout the month of November.
I will do a MAX of 10 events.
Basically I will show up at your event at your invitation and and do an impromptu photo booth. No props or any of that nonsense just me and a bad ass medium/large format (3.25"x4.25") analog camera that takes beautifu,l raw, funking real deal, one-of-a-kind instant analog photographs.
I can shoot with available light (room level / brightly lit outdoor areas are good) with 3000 speed high speed b&w (see sample above). I can also bring studio lights if there is an outlet.
For a small set up fee I can add extras such as: , custom hand printed cards, color film etc.
The Polaroid Photo Booth service is transported by bicycle, your event can be bike based or stationary.
Send me the details of your event and I'll let you know if I can make it. IF I COMMIT, I WON'T FLAKE.
If you just want basic polaroids all you have to do is hit me up.
If I am available for your event, I'll show up on my bike, and take polaroids of you and your people for $5 each.
$3 from every sale will go directly to the production costs of the 7th Annual Midnight Ridazz - All City Toy Ride / $2 will go film and other expenses.
Events must be in greater Los Angeles area, I will arrive by bicycle.
Whats a Toy Ride?
Check Out Last Year's 6th Annual ACTR
?????????'s
Fuck nos?
Fuck yous?
Fuck yeahs?
Write on.
Booking: abstractmachine/at/gmail/dawt/com subject: polaroidzz
- Patrick / aka/ Trickmillz
reply