Lost Dog Alert!

Thread started by
maddox
at 01.2.13 - 12:13 am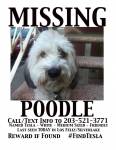 Hey everyone, my good friend lost his dog Tesla recently. I'm posting this here because I believe that Ridazz is a great community, and we cover a lot of ground in the most efficient way possible (driving a car to look for a dog can obstruct traffic and walking is too slow). Cycling is perfect.
Here are some tips:
1. If you see Tesla, please do not chase her. She's panicking and chasing her doesn't help. Try not to approach her because you are a stranger to her and might cause her to panic and bolt into traffic.
2. If you see Tesla, please tell us where you saw her: #FindTesla on Twitter or the contact from the posted flyer.
3. Do NOT feed Tesla if you see her! She will be easier to catch if she's hungry!
4. Stay back at least 30ft. She's just a dog lacks the ability to discern a "rescuer" from an "attacker."
5. Take a photo if you can. This is better than calling her or approaching her. If you've got a smart phone, put it to use! This can help identify and avoid false positives.
6. Note any injuries. She'll behave differently if she's injured, so it behooves us to know if she is!
7. The best time to search for lost dogs is at dawn. If you ride early and want to join the cause, please take advantage of it!
8. Tesla is shy and this rescue might take days. Watch and report. Be patient. Don't scare her off by rushing the rescue. She has been spotted several times, but unable to be captured. We're trying to discern a behavior pattern if nothing else until we're able to capture her.
9. Look for Tesla in warm places like the back of restaurants and under parked cars.
If you manage to spot Tesla, please call 203-521-3771 any time day or night, and again, please follow & report at #FindTesla on Twitter. Thank you all for your help!
reply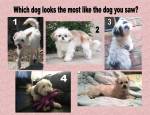 A number of people have claimed to have spotted Tesla, but there are a lot of lookalikes. If you speak to someone who claims to have seen her, please use this to help identify her (she is #4).
Also, here are some tips when approaching a shy or fearful dog:
http://www.wikihow.com/Approach-a-Shy-or-Fearful-Dog
Thanks everyone!

maddox
01.2.13 - 12:19 am
reply