UniGeezer's Second Century This Sunday!

Thread started by
UniGeezer
at 01.28.13 - 1:28 pm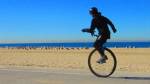 100 Miles – One Wheel- One Day!
Ride will begin at dawn and start at beginning of bike path at Torrance beach. Ride will go through beach cites of Redondo, Hermosa, Marina Del Rey, Venice, Santa Monica, until the path ends at 22.5 mile mark at Will Rogers State Beach, then doubling back for a total of 45 miles.
This route will be ridden twice plus an additional 10 miles for a total of 100 miles.
Date: 2/3/13
Start Time: Dawn
All are welcome to ride along either all or part way, and be part of the video documentary!
Hope to see you there on the conveyance of your choice!
Terry "UniGeezer" Peterson
reply
Always impressive, Terry. I just subscribed to your youtube channel.
What is your average speed? 10mph? So that I might estimate when/where to join the ride. I'll be in Pasadena until 1ish, and could be in Venice or Santa Monica around 3.

CatCampion
01.28.13 - 3:49 pm
reply
My average speed should be 11-12mph. My route has been slightly modified:
The first out & back will the the same but will include the Ballona creek path as well, which adds 16 miles. So the first out/back will total 44+16=60 miles. The second out/back will go from Torrance beach to the end of Ballona creek and back, for an even 40 miles, for 100 miles total. This way I can avoid Washington blvd and Venice area during the busiest time of day. I estimate that the first go 'round will take about 6 hours and the last one about 4 hours.

UniGeezer
responding to a
comment
by CatCampion
01.28.13 - 6:04 pm
reply