Hume turns 300

Thread started by
tern
at 05.7.11 - 4:44 pm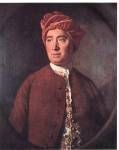 Some of you will delight in the fact that David Hume, philosopher and subject of countless MR images, has turned 300 years old today. Somebody should make a ride.
Someone told me once that David Hume engineered an early version of what we know as a bicycle seat for the specific reason that he loved his wife's ass needed something that could hold it up to his much adoring view.
Here's the link to the story about the bike porn progenator, David Hume.
http://www.nytimes.com/2011/05/07/opinion/07zaretsky.html?ref=opinion