Wolfpack Hustle The Marathon Crash Race 2012

Thread started by
Roadblock
at 01.17.12 - 2:55 pm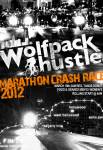 REGISTRATION IS FREE OPENS AT 3AM
ROLLING START 4AM
MEET AT TANG's DONUT at Sunset and Fountain 90027
Every year, the organizers of the Los Angeles Marathon shut down 26 miles of LA streets with barricades by 4AM in the morning.
This is your chance to race the course against hundreds of other cyclists in one of the largest unsanctioned races in the world.
This is a RAIN OR SHINE. OR EARTHQUAKES, OR LOCUSTS, OR NUCLEAR HOLOCAUST Event.
Race registration BEGINS at 3AM at Tang's Donuts SUNDAY MORNING. The race may start early so get there by 3:45AM AT THE LATEST.
More info on need to know basis. Yeah. Need to know.
You say you want to know more about this race? Come see the Documentary this Friday night at the Vista Los Feliz.
CATEGORIES:
Women's Fixed
Women's Geared
Men's Fixed
Men's Geared
PRIZES:
1st place DOG TAGS
TONS OF SWAG
BRING:
HELMET
LIGHTS
YOUR HUSTLE.
NOTES:
Not everyone who shows up is racing. Lots of folks just want to ride and have just as much FUN as those racing. Come on out no matter who you are and what you ride. Plus, you get to be at the Finish line for the LA Marathon before the general public.